2017 Executive Committee
President
James Reeve, Managing Director, Pearson Education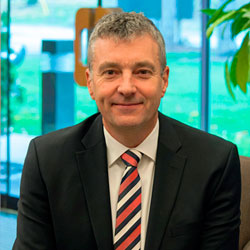 Mr. James Reeve is the Managing Director of Pearson Canada, Canada's largest learning company. Mr. Reeve has overall responsibility for managing businesses in Canada's K–12, Higher Education, Professional, Clinical Assessment, and French language markets, and ensuring that the efforts of the company's more than 600 employees are focused on improving people's lives through learning. Mr. Reeve has devoted his career to providing innovative learning materials, technologies, assessments, and services to educators, professionals, and students. Prior to joining Pearson, he served as Senior Vice President and Managing Director of the Higher Education Division of Nelson Canada.
Past President
Craig Swinwood, President & CEO, Harlequin Enterprises Limited
Brad Martin, CEO Penguin Random House (Canada)
V.P., Trade
Tracey Turriff, Senior Vice-President Random House of Canada
V.P., K-12
Beverley Buxton, General Manager Pearson School Division
Treasurer
Barry Gallant, Chief Operating Officer Penguin Canada
Executive Director, External Relations
David Swail
Responsible for implementation of agreed policy, external relations and media relations; general government relations activity and management of copyright and intellectual property-related activity including legal considerations and reform of federal statutes.
Accounting Officer
Joanna Ames
Responsible for the Council's accounting.